Diabetes Online Courses

Diabetes and its complications bring about a substantial economic loss to people with diabetes and their families, health systems and national economies through direct medical costs, loss of work and wages. As a health care professional, you can make a significant contribution to solving this problem by improving your knowledge and skills in treating and preventing the condition.
Our PGDip/MSc in Diabetes is currently our most established course
With a team of over 40 expert course tutors we deliver online diabetes courses to the highest standard and at affordable prices.
Applicants will typically be health professionals who have a day to day exposure to people with diabetes. You may be part of a team which delivers care, a leader of that team or an individual who treats people with diabetes. The Postgraduate Diploma in Diabetes course is designed for individuals who wish to have a greater understanding of the care of people with diabetes, particularly General Practitioners, Practice Nurses, Diabetes Specialist Nurses, Podiatrists, Pharmacists, Dieticians and Pharmaceutical Representatives.
Students may apply for the MSc in Diabetes as a two-year course, firstly completing the Postgraduate Diploma (120 credits), followed by the MSc (60 credits).
Apply now for the Postgraduate Diploma.
---
Meet the Course Director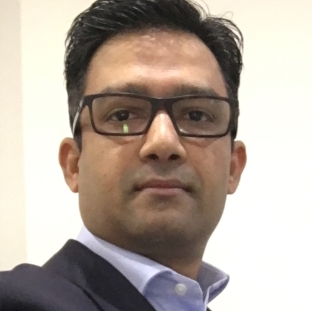 Dr Vinay Eligar MD.FRCP(Lon).MRCP (Endocrinology and diabetes)
Current post: Consultant Physician (Endocrinology and Diabetes) University Hospital of Wales
Member of the Medical Defence Union
Member of the Royal College of Physicians (London)
Vinay has been a Consultant at the University Hospital of Wales since completing his Welsh deanery training. He has authored a book chapter on Thyroid replacement and for higher specialty exams in diabetes and endocrinology. He has also developed materials for the Diabetes MSc course conducted by University of South Wales and Cardiff University and maintains significant interest in inpatient diabetes management.
His current research interests include "Strategies for Inpatient hypoglycaemia prevention". As a part of the Thyroid research team affiliated to Cardiff University, he is involved in "Genetics of hypothyroidism (GENTHYR)" study, looking into the role of T3 and T4 combination therapies in specific subsets of hypothyroidism.
Graduate Ratings
---
I would highly recommend this course
"I would highly recommend this course as it will help in enhancing knowledge on the subject."
Dr Fizzah Saeed MSc (SA)
---
Gave me a new lease on life
"Gave me a new lease on life with new knowledge, new approaches and regaining enthusiasm."
Dr Russel Kirkby MSc (ZA)
---
Really made me look at things differently.
"The course really made me look at things differently. I now do a lot more research into a topic as I now have the knowledge and skills to understand and choose articles for reviewing. It broadened my knowledge hugely. Being able to do the work at my convenience was fantastic. Doing group work made you approach topics from various angles. Made me think more laterally."
Christine Manga MSc, Diabetes Specialist Nurse (ZA)
---
Well worth the effort
"This course is well worth the effort. It was well organised and I was able to enchance my knowledge about diabetes management which I use daily in my practice."
Kerri-Ann Best MSc, Dietician (BB)
---
Enhanced my clinical practice in leaps and bounds
"The knowledge gained from this course has enhanced my clinical practice in leaps and bounds. The course was methodical and covered all aspects of the topic required for continued education. I would highly recommend this course for those who have a keen interest in diabetes mellitus."
Dr Vindra Maharaj MSc, Tutor (TT)
---
Subject Courses
Diabetes PgDip
Delivered over 1 year the online part-time distance learning Postgraduate Diploma course is specially developed for busy health professionals. Formatted in 6 modules, each of 6 weeks duration; the course is designed to be practical and clinically focused.
More Information
Diabetes MSc
The MSc runs over 1 calendar year. Starting with an initial 12 week online module to develop their skills in critical appraisal and knowledge of research methodologies, the students then complete the professional project module that consists of a 1,500 word proposal and 10,500 word professional project.
More Information