Preventative Cardiovascular Medicine Online Courses
Diploma MSc is a leading provider of online medical education for Postgraduate Diplomas and Masters courses. Working in conjunction with the University of South Wales, who have an established reputation for delivering innovative learning, we currently offer a Postgraduate Diploma and MSc in Preventative Cardiovascular Medicine. These preventative cardiovascular medicine courses are a one-of-a-kind and have been developed to holistically address the approach to vascular disease. The breadth that the courses cover and their focus on integrating all of preventative care makes them truly unique.
Our team of course authors and tutors are recognised experts and opinion leaders in their specialty areas. This fact, in conjunction with our affordable prices, promises a truly accessible course of the highest standard.
Both the Postgraduate Diploma and Masters in Preventative Cardiovascular Medicine courses are aimed at GPs, Secondary Care Trainees in Diabetes, Vascular Surgery, Cardiology, Medical Biochemistry, Junior Doctors, Paramedics, Dietitians, Allied Health Professionals, Specialist Nurses working in FH and Practice Nurses running CV clinics who wish to develop their skills in this area of work.
The preventative cardiovascular medicine courses can be completed online and are available 24/7, giving you the flexibility to learn at a time that suits your busy schedule.
Apply now for the Postgraduate Diploma.
---
Meet the Programme Leader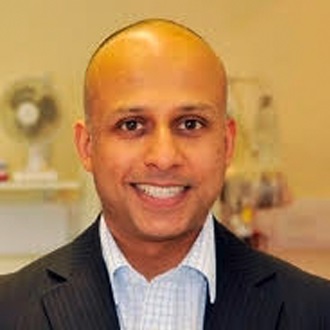 Dr Dev Datta MB BCh (Wales), MD, FRCP, FRCPath
Current post: Consultant in Biochemistry and Metabolic Medicine, University Hospital Llandough
Fellow of the Royal College of Pathologists
Fellow of the Royal College of Physicians
Member of the Association for Clinical Biochemistry
Medical Lead for the All Wales Familial Hypercholesterolaemia Cascade Testing Service
Chair of HEART UK lipoprotein apheresis sub-group
Deputy chair of the HEART UK medical, scientific and research committee
Dr Datta completed undergraduate medical training in Cardiff and underwent postgraduate training in cardiology in Scotland and Wales and then biochemistry and metabolic medicine in Cardiff. He was awarded a BHF junior research fellowship and completed his MD in vascular biology at the Wales Heart Research Institute in Cardiff.
He runs a cardiovascular risk factor and lipid clinic and the lipoprotein apheresis service in Wales. He is currently medical lead for the Welsh Familial Hypercholesterolaemia Service. He leads a weight management service and provides medical input to adults with eating disorders as well as contributing to general clinical services in our medical biochemistry laboratory. His research interests are in familial hypercholesterolaemia.
Discount for HEART UK members.
HEART UK members receive a £300 discount. This will require validation. Find out more.
Graduate Ratings
My approach totally changed for the better
"Diploma MSc has enabled me to be identified as one of the pioneer and leading consultant in Preventive and Wellness especially on Preventative Cardiovascular Diseases. This has further resulted in increase in my patients flow and being listed in different health insurance panels. The knowledge I have so far acquired especially in my project has enabled me to be one of the leading experts in workplace CVD prevention. With the knowledge acquired I am very well placed and equipped to write a book which has always been my passion to be an authority in preventative medicine. My approach of management of of lifestyle diseases has totally changed for good and for the better."
Dr Shedrach Kahindi MSc (KE)
---
A wonderful experience
"Learning with Diploma MSC was wonderful experience. It helped me improve in both academic and clinical care. Thank you for giving many of us this opportunity."
Dr Godana Jarso Guto MSc (ET)
---
Excellent program
"Excellent program but how useful in Middle East country is questionable."
Dr Jitendra Mishra PgDip, Cardiologist (QA)
---
I learned a lot
"During my studies I learned a lot about the subject. Now that I am working as a clinical pharmacist in NHS hospital, I am applying my learning in real practice for betterment of our patients, to reduce the cardiovascular risk including acute coronary syndrome, heart attack and stroke, working along with consultants and specialty doctors."
Muhammad Khalid Lodhi PgDip, Pharmacist (GB)
---
I really enjoyed studying here
"Diploma MSc offers an excellent course which gives an in depth subject knowledge and confidence, the method of learning is also very interactive. I really enjoyed studying here and I hope they could introduce more advanced courses."
Dr Sukesh Upare MSc (OM)
---
Excellent course
"This has been an excellent course which has vastly improved both my knowledge and practice."
Muhammed Vally, Pharmacist and Lecturer (ZA)
---
Never ending opportunities
"Studying with Diploma MSc opened for me the proverbial steel doors to a World of never ending opportunities that could never have been possible otherwise in my professional life. This opportunity literally elevated me from a junior officer in my department to Fellow status on the bench within my Specialty College."
Dr Nyambe Innocent Mungandi MSc (ZM)
---
Subject Courses
Preventative Cardiovascular Medicine PgDip
Delivered over 1 year, the online part-time distance learning Postgraduate Diploma course in Preventative Cardiovascular Medicine consists of 6 modules running sequentially, each of 6 weeks duration.
More Information
Preventative Cardiovascular Medicine MSc
The MSc runs over 1 calendar year. Starting with an initial 10-week online module to develop skills in critical appraisal and knowledge of research methodologies, the students then complete the professional project module that consists of a 1,500 word proposal and 10,500 word professional project.
More Information